A unique, powerful business application that delivers improved business intelligence and increases operational efficiency. Explore the benefits to your business through the Reveal Wheel.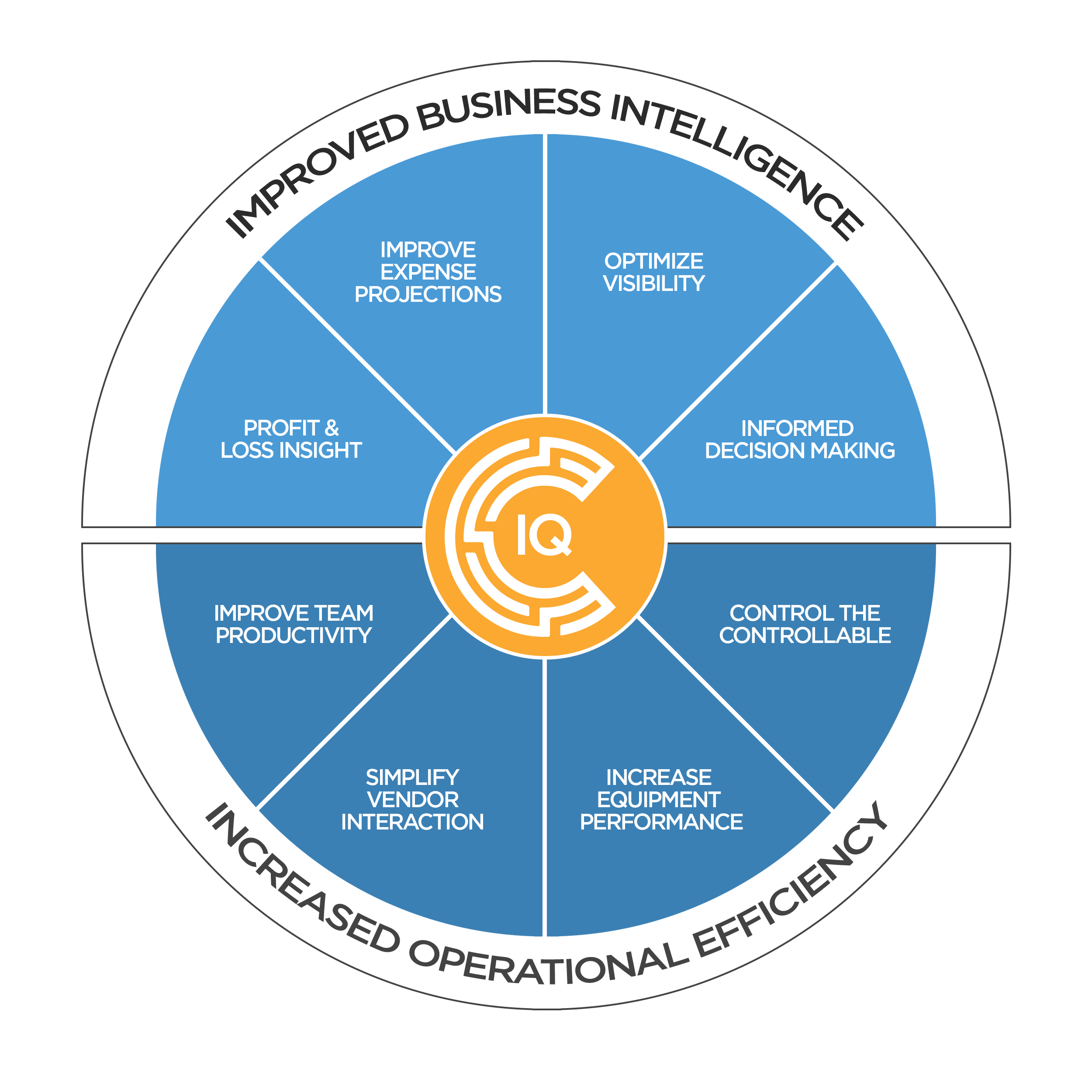 Our Amazing Solution: Business Operations Management Service
Improved Business Intelligence
Informed Decision Making – The accelerated pace of business demands that managers make proactive, informed, strategic decisions supported by business metrics.

Reveal

iQ

supports data driven decision making by providing quantifiable performance data tied to business activities, equipment downtime and associated loss of sales. With

Revea

l

iQ

,

the manager uses empirical business data to make the most informed decision possible.

Improve Expense Projections

– Projecting costs and its impact on the bottom line is critically important but can be a significant challenge for any manager in a high transactional environment.

Reveal

iQ

helps managers to make informed decisions based upon easy to access historical data, trending and its impact on performance.

Profit & Loss Insight

–

Reveal

iQ

offers managers the ability to comprehend the impact of their decisions and management tactics on margin performance. Managers gain critical insight into weekly and monthly actuals in 1 centralized location to adjust decision making on the fly.
Increased Operational Efficiency
Increase Equipment Performance – Winning managers gain control over costs that erode margins. Reducing equipment downtime and eliminating unnecessary maintenance costs,

Reveal

iQ

ensures critical tasks associated with equipment maintenance are completed on-time thereby reducing interference that impacts the customer experience and business performance.

Simplify Vendor Interaction

–

Reveal

iQ

facilitates strong vendor and management relationships. The application provides a single, interactive portal for shared information between the vendor and management. Vendors obtain trusted data including historical information thereby providing them with insight to best approach your business needs. The application enables the vendor to act independently in a focused and timely manner.

Improve Team Productivity

– Teams routinely face a steady flow of activities that can side-track priorities resulting in lost productivity. Revea

l

iQ

helps managers to set priorities, focus activities, track progress and ultimately minimize drains on productivity. In the process, morale is elevated as employees become more efficient and clearly appreciate the role they play in creating a winning team.
Our Business Operations Management Service
Use Resources Efficiently
Business operations are complex. If you are like most workplace decision-makers, you juggle a vast amount of information and competing priorities every day. Can you say, with no doubt, that you are getting the highest return from your current resources? If not, Creative Core Technologies is here to help you.
Our suite of data-driven applications (CMMS mobile solutions) puts business managers like you back in control. We provide easy-to-use tools that utilize the newest technologies and most effective interfaces to make your job easier. From forecasting and vendor management to equipment maintenance and workforce productivity, our customized metrics and visuals get you the information you need to make the right decisions.
No business is too small to achieve data-driven efficiencies. This includes eliminating unnecessary costs that erode your earnings, maximizing your equipment set-up time, streamlining your workforce, and sharing information between internal and external users. Our real-time and intuitive dashboard gives you the proactive tools you need to focus your energy on what matters most: making the most of the resources and opportunities available to you.
Rely on Our Experts
The team of technology leaders at Creative Core Technologies specializes in CMMS mobile solutions, asset expense forecasting, employee engagement, and vendor management. We are passionate about our clients' success, and we do everything possible to get you the information you need to take your business to the next level. No matter what size of operation you manage, our solutions are the right choice to drive productivity, efficiency, and performance across your organization.
Start Prioritizing Your Time Today!
Your business needs your full attention to thrive. But how long do you spend crunching numbers, planning ahead, or making educated guesses each day? Imagine having access to reliable, data-driven tools that can do these tasks for you. Think of all the time you would be able to save. You'd finally be able to tackle that growing list of to-do projects or create a strategy to conquer new markets.
Our tools make it possible for you to manage your business more efficiently, saving you time, money, and resources. For more information, visit www.CreativeCoreTech.com, contact (888) 511-3108, or email Support@CreativeCoreTech.com.